Committee Members
West Country rep PO (UW) Lee Dudman
Communications & Webmaster: Bob Burton
CPO (UW) David Baxter Vice Chairman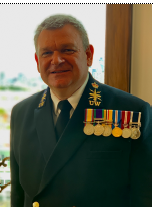 Stan Baxter grew up in Kent and was educated at Upbury Manor, Gillingham. He joined the Royal Navy in July 1985. Completing training at The School of Maritime Operations (SMOPS), HMS Dryad and initially served as a Junior Seaman onboard HMS Cleopatra a Towed Array Leander Class Frigate he completed many TAPS Deployments.
Serving on a NATO assignment at Northwood he returned to sea onboard HMS Battleaxe and participated in Op Granby. Another spell at Northwood within CinCFleet staff he then served on HMS Hecla conducting surveys in the Atlantic and South America. After a short spell at HMS Raleigh he returned to HMS Hecla to conduct further surveys in the Indian Ocean before crossing over to become an Operator Mechanic.
Serving as a OM(UW)2 onboard HMS Norfolk and then HMS Sutherland he was promoted to LOM(UW) and served for over 3 years on HMS Lancaster completing numerous deployments to the Gulf.
Selected for promotion to Petty Officer he served for a short period onboard HMS Victory prior to joining HMS Richmond and participation in the Gulf War.
On successful completion of POQC he joined HMS St Albans for further deployments to the Gulf region before returning to Northwood to work at CTF 320 Maritime Special Operations during a busy counter narcotics period.
Returning to sea onboard HMS St Albans he completed deployments to the Gulf region prior to a through draft to the Type 42 Destroyer HMS Liverpool.
Selected for promotion to CPO(UW) he served at MWS Collingwood instructing within the UWTE and the POQC which is the highlight of his career.
He also spent a period of time as a PDO in Phase 2 training in HMS Collingwood. Returning to sea as the CPO(UW) of HMS St Albans he successfully brought her out of refit and through operational training and deployment leaving her mid way through a 9 month deployment. Returning to MWS Collingwood he took on the role as UWTE Co-Ord for 3 years.
Taking on a short notice assignment to HMS Westminster, he enjoyed a NATO Deployment to the Baltic and periods of DTAPS and National Tasking during the COVID period in 2020
Proud to be selected for the Meritorious Service Medal (MSM) and also the 2nd clasp to his LSGC medal he now serves within the SURFLOT as the ASW FGFC OPS Co-Ord a position he is very much enjoying.
CPO Baxter lives with his wife Katrina of 25 years and their daughter Philippa in Kent where he enjoys walking and family time with their Scottish Terrier Bella and Irish Sports Horse Theo.