Attenders 2018 Dinner
This is a list of those who have said that they are or may be attending the ASWI dinner. This list will be updated at regular intervals. If you are attending and are not listed then email me, Like wise if you are not attending then let me know bobburton@aswi.co.uk

Updated 23rd September 2018
Confirmed (Paid)
Commander Hugh W S Botterill MBE MA Royal Navy (Guest Speaker)
Dave Coleman
Deborah Coleman
Michael Coleman
Patricia Coleman
Tom Williamson
Maragaret Williamson
Bill Bailey
Helen Bailey
Paul Gower
Julie Gower
Steve Hawes (Guest of Paul Gower)
Angela Shaffery (Guest of Paul Gower) Yates
Bill McCoppin Guest of Alan Yates
Phil Wratten
Rosemary Wratten
Michael Nash Guest of Phil Wratten
June Nash Guest Phil Wratten
David Wragg Guest Phil Wratten
Marie Wragg Guest Phil Wratten
Peter White
Caroline Batty Guest Pete White
Muzz Cowley
Mary Cowley
Alex Pinch
Tracey Williams
Ray McCready
Leah Mcquirk
Dave Gemmill
Carol Gemmill
Andy Astley
Sue Astley
Bob Ayling
Jenny Ayling
Adrian Bambridge (Bambi)
Patritia Bambridge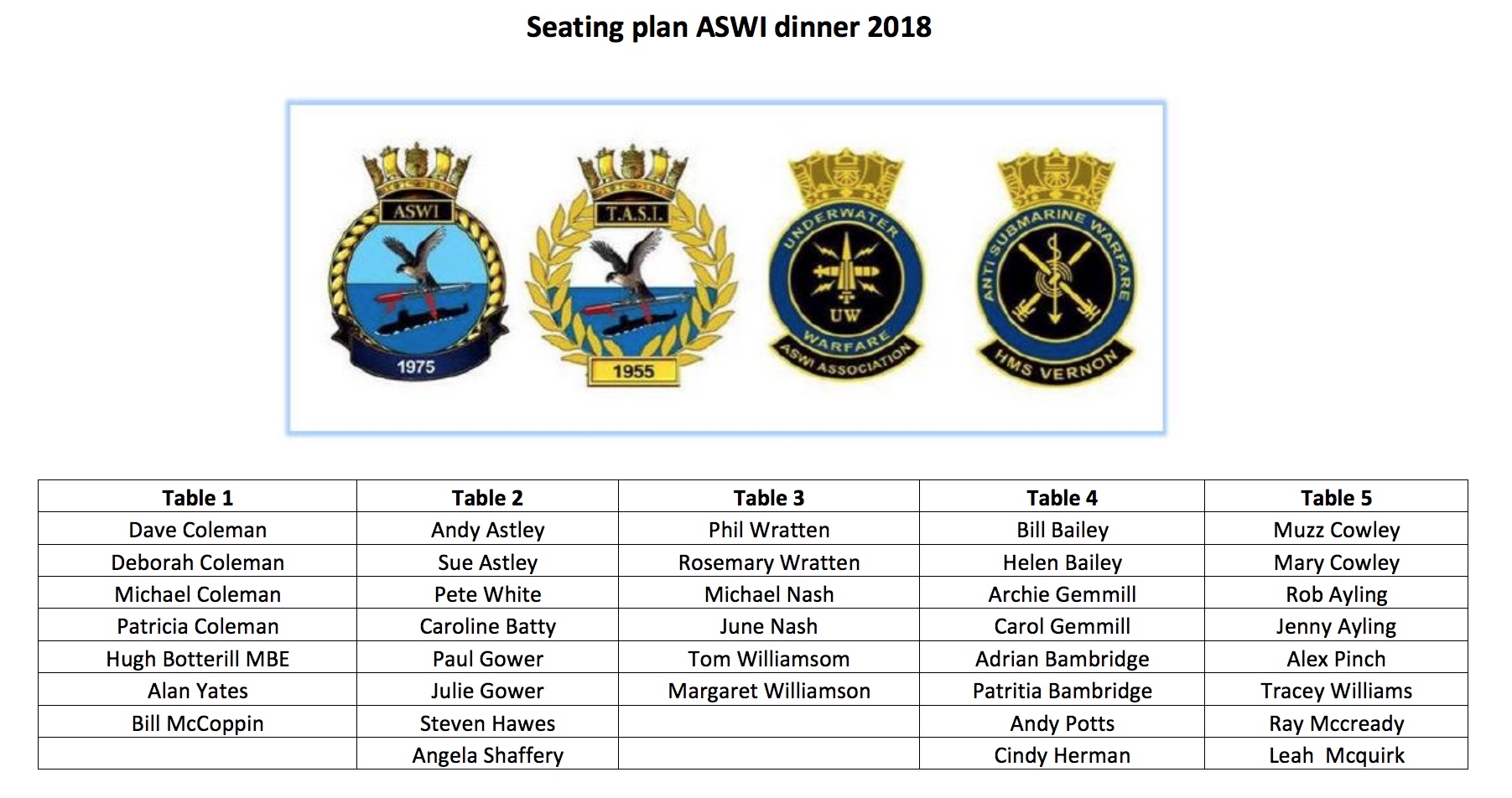 Aims of the Association
To promote "esprit de corps" amongst members so as to enhance their prestige within the service.
To provide wherever possible and within the means of the association, professional help and assistance to the serving membership.
To expand the social and recreational activities of its members.
Key Benefits to Joining
The opportunity to contact and meet old shipmates.
Regular social events (many subsidised).
Your own page on the website.
Occasional Seamaster web newsletter .
Email facility for members that are not online.

Membership is now open to all serving, ex serving sonar rates. Lapel pin, access to subsidised or free events, sonar course photos and year photos. Access to the members area of the website. LOGIN HERE!
Photos Unknown
Can you help with any of these photos? What was the event? Can you name anyone in the Photos? Email Webmaster if you have any ideas. Better quality photos can be provided if you need them.